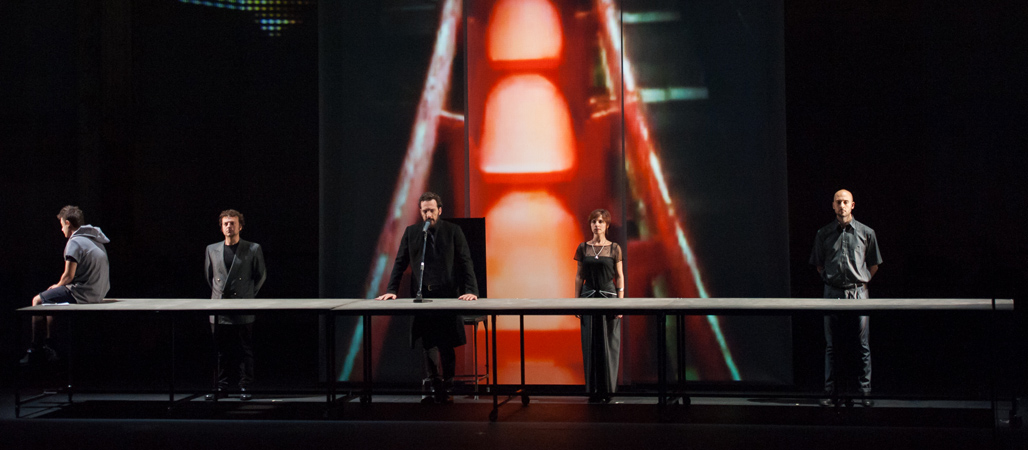 Hamlet
No I am not Prince Hamlet nor I was meant to be
I am a courtier, one that will do to swell a parade
to start a scene or two, prudent, cautious and meticulous
Full of high sentences but a bit obtuse
At times indeed almost ridiculous
Almost at times the fool.
T. S. Eliot
a project of Andrea Baracco, Biancofango, Luca Brinchi e Roberta Zanardo (Santasangre)
director Andrea Baracco
dramaturg Francesca Macrì
scenic plant, light design, costume Luca Brinchi e Roberta Zanardo
video project Luca Brinchi, Roberta Zanardo, Daniele Spanò
cast Lino Musella, Michele Sinisi, Paolo Mazzarelli, Andrea Trapani, Woody Neri, Eva Cambiale, Livia Castiglioni
and Gabriele Lavia (by audio e video)
cooperation by light design Javier Alberto Delle Monache
cooperation by costume Marta Genovese
technical direction Javier Alberto Delle Monache
production direction Alessia Esposito
production Teatro di Roma, Festival Romaeuropa, 369 gradi,
in coproducion with Festival Internacional de Teatro Clasico de Almagro
in cooperation with Tfddal – Teatro Franco Parenti, La Corte Ospitale, ATCL Associazione Teatrale tra i Comuni del Lazio, Kollatino Underground
with the support of carrozzerie n.o.t., Claudio Angelini (Città di Ebla), Link Academy
Our Hamlet is not a polish intellectual that doubts, who thinks about himself and the others, about the first and last meaning of the existence, who knows everything because it seems he has already thought about everything, but he's a battered body, having no lovely appearance, not kissed by grace. Our Hamlet takes with him the signs of a drift, its own and that of an entire community. He moves stumbling, in perpetual imbalance. Our Hamlet has committed and obstinately keeps on committing missteps both physically and mentally. Our Hamlet is the man of today, weak and damaged, who constantly is tumbling on the ground, tripping over the traps that someone, before he passed, has carefully set down.
Hamlet is much more than Hamlet, as Rolando Barthes suggests in one of his essays on theatre, and this disproportion is exactly what interests us above all, this evident impossibility of forcing into the banks of thought a text that is much more than a text, which overflows continuously, for incontinence, beyond the theatre but within the theatre it claims to be placed.
In an attempt to restore the complexity of the work, we are trying to subtract, first of all ourselves, from Hamlet's dictatorship. A dictatorship which has been lasting for about six hundred years. We are trying to escape from all the noise and crusts that centuries and infinite representations have unavoidably laid down on the text, making it something different from himself. Ultimately our greatest ambition is to bring Hamlet back into himself.
By learning Brecht's lesson on the reinterpretation of classical textuality, we try to find what can be defined as the right distance and / or measure in relation to the work, in order to avoid the mistake to reproduce unintentionally the scabs deep-seated over time. Just to try not to minimize the text, but to restore this enormous complexity, we will draw on that immense reservoir of images and places that are its peculiar nature and we will enter into dialogue with that Shakespearean word that, more than ever in Hamlet, overflows and invades. An ambitious word, sometimes presumptuous, that transfigures and builds, which seems to be self-sufficient t and a moment later opens chasms of emptiness.
The encounter of image, action and word will build the unstable equilibrium in which the whole world of Hamlet moves and will give